These are heavy times, and one would expect the world's most celebrated living intellectual to be at the forefront of discussion with all the unprecedented events that have been going on over the past few days and weeks...
But Noam Chomsky is nowhere to be seen. His site? The "Recent Updates" redirects to his Facebook page. His Facebook page? Selling mugs, books and garden gnomes. One would expect him to be speaking out for Assange and supporting Wikileaks on the Clinton case: we all remember the heroic support he offered Assange in the earlier days of his exile at the Ecuador embassy in London. Now, silence. His e-mail returns a form letter that "Prof. Chomsky will be away from email until Nov. 15". On the other hand, I remember a lightning-fast email session I had with him in January: I was criticizing SYRIZA for succumbing to EU pressures and abandoning its promise of kicking austerity. Each time he replied within minutes (literally! I was taken aback by how quick he was!) in support of Syriza, stating that they had no other option, Grexit would have been a disaster and the reason Syriza failed was that they had no support from the European Left. My last reply was that they had a choice: when they realized it was a dead end, they could have resigned and left the dirty work to someone else. They could have saved their hands from being stained with the blood of more suicides, crumbling hospitals and shrieks of despair from impoverished citizens. They could have saved the public from total disillusionment with the Left. That's when our email exchange ended. I only rekindled it last week to learn his whereabouts and got the form letter reply.
Later this year I was shocked to learn that Chomsky had said he would support Hillary Clinton in a
swing state
.
(And then Bernie Sanders was ousted from the race and he too endorsed HRC.)
So, why has Noam disappeared? My hunch is that one of two things has happened: either he was blackmailed to silence, or he was part of the establishment all along. Disappointing either way.
I fail to believe that his silence is for good purpose and that he will speak out when the time comes, as he has already done enough damage by openly endorsing the establishment's pick.
Or maybe his disappearing act has something to do with the scrutinizing look on the larger-than-life portrait hanging on his wall...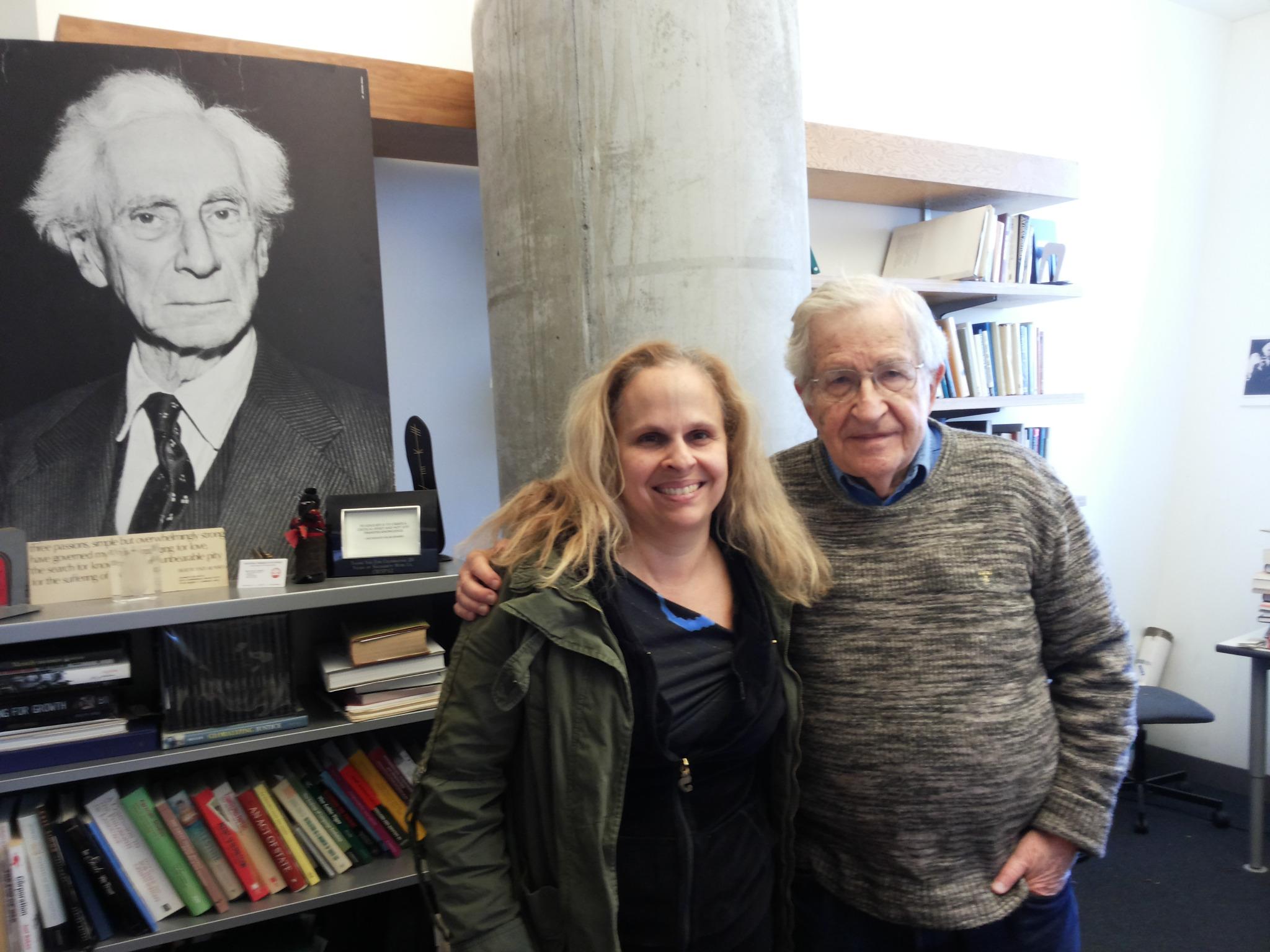 With Noam in his office, November 2014. Before I was sadly disillusioned.